09 avril 2007
LAST CLUB'S MINUTES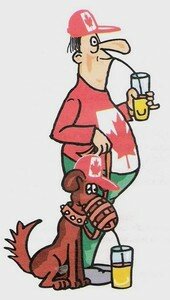 Ten members attended the April 8 meeting. Due to the Easter holiday, there were other people feasting in the Arabica Кафе, tak, we couldn't really discuss any topic openly.
As the chairman, I had planned to make a lecture about maple syrup festivals in Canada. An information sheet was distributed summing up the information: The maple leaf is the emblem of Canada. It comes from a maple tree called the 'sugar maple' and gives Canadians their favorite sweet: maple syrup. Canadians like it so much that they even have special celebrations in honor of this sweet drink. Here's how they produce it:

At the beginning of spring, when the days are warm but the nights are still cold, sugar maples start to produce sap, or tree water. If you collect the sap and then boil it for a long time, you'll get maple syrup. If you cook it longer, you'll get maple sugar. Both products are delicious and widely available on the market. But your must be patient: it takes hours to go from 40 liters of sap to one liter of syrup.
COMMENTS:
Post a comment