10 juillet 2008
Tick. Tock. Tick. Tock.
by Leap Of Faith aka Temps
*Written for a Contest.*
The clock ticks impatiently
as another hour comes near its end.
A night of romance is approaching
as she sits anxiously awaiting his arrival.

The doorbell rings.
Instantaneously she fills up with excitement.
She leaps up from the couch
as a smile rushes over her beautiful face.

She opens the door to find her пылкий любовник
(pronounce "pooykyi lyoobovnyk": passionate lover)
with a pot in his left hand.
He gives it to her with a sweet
peck on her rosy red cheek.

He walks in the room and his gorgeous eyes open wide.
The room is lit with candles that dance with color
and rose petals romantically spread on the couch.
He whispers passionately "Я люблю тебя, детка."
(pronounce "Ya loobloo tibia dietka": I love you baby!)

A romantic vibe fills the room with happiness
as the two sit down to talk and spend the evening
in each others arms, once and for all.
She looks up into his beautiful baby blue eyes
and says, "бы мой солнечный свет."
(pronounce "Voui moy solnietchni sviet.": You are my Sun.)

Adapted by AMB
20 janvier 2008
REUNION 2008
Finally, Martin Bouchard, the founder of the Club has visited some members in 2008. It was on a sunny Saturday, January 5th, 2 o'clock at Lucky Pizza. The reunion was presided by Regina Haïdarova and her chauffeur Eduard Gasitunin. The next meeting is scheduled for the end of February to celebrate the departure of winter. An 'sms' will be sent to all members a week prior to the meeting date.
The man on the left has replaced Martin as a native teacher. Frank Romero is from Houston, Texas. The 'girls' are looking forward to seeing him under his Stetson hat this summer...
Rimma (the Warrior) Abdrakimova, director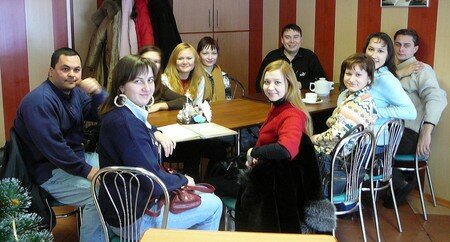 24 mai 2007
A Spectaclar Private Museum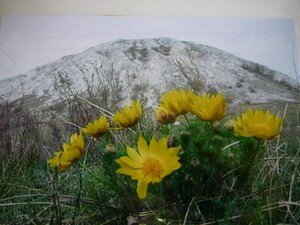 Many people in Sterlitamak don't even know how the Sheehany Mountains emerged and how they had been part of an ancient sea that was covering the whole Republic of Bashkortostan 250 millions years ago. On Sunday May 13 pm, 12 members of the Club went to the private Museum of Mr. Ivan Albertovitch Skweene, a retired geologist. On arrival, he lectured us on the pre-historic period where a large part of Russia was covered with an ocean. The museum is situated in a building belonging to the Soda Factory at the outskirt of the City. We had the opportunity to look and manipulate hundreds of minerals and stones that explain the history and development of life on this part of our planet.
Four generations of women from one family living in Moscow have been studying the Sheehan Mountains for a long period of time.
The first sea appeared in the Urals range of mountains more than one milliard years ago. Nowadays these large areas are a very important stratigraphic section represented by the open-cast mine of the Soda Industrial complex. There are also vegetation remains of different forms from leaves and fragments of trees.
Scientists from all over the world come to Sterlitamak to organize geological and paleontological venues. In the place called Shakh-Tau, there have been 4 international congresses. Scientists from Canada, Italy, Argentina, Africa, Germany, France, England and other countries come here regularly to have the unique opportunity to see and study the reefs of the ocean on the surface.
Rimma Abdrakhimova, Russian English Teacher
Speak English Language School, Sterlitamak.
02 mai 2007
MINUTES OF APRIL 29
This meeting was held at the Lucky Pizza Кафе at 4 pm. Nine members were present: Ruslan K., Ruslan I., Maksim L., Ildar V., Arthur M. and his girlfriend Alla, Rimma A. and Dilara S. To Dilira's proposal, we unanimously accepted going to a dancing show at the CK (where the school has its premises) at 7 o'clock. A friend of hers (Gulnaz) and Ildar's son Victor (10) were going to perform.
After our usual tea and dégustation of the house specialty, we walked to school (nearly 2 km) and enjoyed nature and the peacefulness of the spring. At school, I offered the members a little cognac and proposed a toast to our Club, to its goal and the future of the youth generation.

The dancing show was admirable and the dancers impressively in shape. The choreography was a brilliant mix of movements with interesting and regular formation changes that blended so well you didn't realize they were moving until it was done. Every aspect of the dance art was in the programme: traditional (Bashkir, Tartar and Russian), social (samba, calypso, modern) and classical (ballet). I have never been to a show that was so moving. In fact, it doesn't even come close to describing what the experience was really like.
The meeting closed at 5.30 pm.
27 avril 2007
MEETING OF APRIL 24
Today's meeting was rather special. We went to watch a movie at the Cinema Salavat. Eleven members attended : Arthur, Alya and her friend Gulnaz, Rimma, Natalya, Alla, Vera, Maksim, Dilara, Ildar and me. We met at the Кафе on the second floor for a tea before the presentation. Dilara had brought the lyrics of a song to put the group in the mood… And you know what?... That same tune was song in the film.
The film, "Wild Hogs", starred John Travolta, Tim Allen, Martin Lawrence and William H. Macy. It was an action-packed comic drama about men, motorcycles and mid-life crises. In the film, Travolta, Allen, Lawrence and Macy star as four frustrated suburbanites who try to rev up their middle-aged lives by hitting the open road as would-be renegade bikers.
But as the trying-to-be-fearless foursome headed out looking for adventure, they got far more excitement than they bargained for. Suddenly, they found themselves in potentially deadly rivalry with the Del Fuegos, a rough-and-tumble, real-life biker gang who forced them to re-learn how to fight by their wits – even as they were scared right out of them. As they attempted to hurl down the highway to hell, these four friends somehow found a way to run into the renewal they were seeking.

A great movie to go and see… Indeed!
09 avril 2007
LAST CLUB'S MINUTES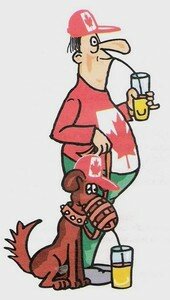 Ten members attended the April 8 meeting. Due to the Easter holiday, there were other people feasting in the Arabica Кафе, tak, we couldn't really discuss any topic openly.
As the chairman, I had planned to make a lecture about maple syrup festivals in Canada. An information sheet was distributed summing up the information: The maple leaf is the emblem of Canada. It comes from a maple tree called the 'sugar maple' and gives Canadians their favorite sweet: maple syrup. Canadians like it so much that they even have special celebrations in honor of this sweet drink. Here's how they produce it:

At the beginning of spring, when the days are warm but the nights are still cold, sugar maples start to produce sap, or tree water. If you collect the sap and then boil it for a long time, you'll get maple syrup. If you cook it longer, you'll get maple sugar. Both products are delicious and widely available on the market. But your must be patient: it takes hours to go from 40 liters of sap to one liter of syrup.
03 avril 2007
MINUTES OF APRIL 1st
This meeting was great... And for the first time, all the participants spoke English to each other. The Arabica Кафе was a judicious choice. It is spacious and rather quiet on Sunday. So, for the time being, take note that we will meet there every Sunday at 3 o'clock. Allow me to introduce the participants:
(from left to right) :

1. Nastya is a school psychologist. It's now official. She's emigrating to Canada in June or July with her husband Eugene and her three-year-old son Yurislave. They're going to settle in Calgary, Alberta.
2. Dilara is an office manager. She graduated from the Pedagogical Institute a year ago. Her levels of reading and speaking are very good. She's attending my second upper intermediate class.
3. Eduard is a young and promising business man. He's a qualified engineer (oil) and runs an advert company. He's very sympathetic and has accepted to be the Club's chauffeur.
4. Arthur is a new member. He's not attending any class but his English is very good. He's a salesman at a mobile phone shop. His ambition is to become a radio announcer.
5. Eugene is Nastya's husband. As he works in a factory not far away from the Кафе, he joined us at 4 o'clock. He's a gentleman and a dedicated husband and father.

6. Ajub is in the 9th form at the Gymnasium School #2. He's an A-student winning mostly all the competitions. When he leaves high school, he plans to study at the McGill University in Montreal, Canada.
7. Rimma is a lawyer and has been recently promoted to assistant judge at the 'Court of Place'. She's been my student for nearly a year. She's very determined to learn English and will succeed.
8. Rustam is a new member and a student at the Oil Institute. He attends my intermediate classes. His English is very good and he wishes to travel a lot. He is proud of his country and very keen on its history.
I am very content and honored to be their English teacher and friend. They're all so cooperative and motivated that my energy's all wound up after each lesson. They're beautiful, aren't they?
27 mars 2007
RE-OPENING OF THE CLUB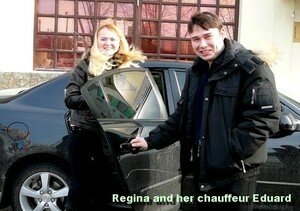 The president Regina Haidarova has officially announced the re-opening of the Club by her presence at a meeting in a little bistro near the Stirlya River on Sunday March 25. A dozen members attended the reunion and enjoyed different tea essences offered by the house.
This year's tendency of IMAGINE! The Club will be focused on the authentic pleasure of savouring tea in an atmosphere of relaxation, friendship and conviviality. Each meeting will be preceded by a lecture in English.
Today's presentation was done by Gulnaz Nasibullina, a student in Law. She lectured the members on the interview she had with the American Consul on Thursday March 22nd in Yekaterinburg. Gulnaz is going abroad on June 1st for a period of 3 months. She will work as a room service keeper in a Hostel in Williamsburg, Virginia (USA).
An informal exchange about the benefits of tea followed the lecture. Martin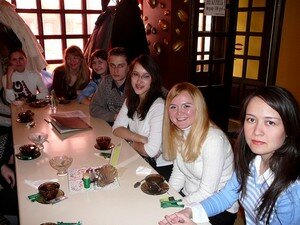 opened the discussion on the philosophy of tea with a quote : "While it brews, we'll talk: We'll talk about everything. We'll talk about nothing. Whatever you want to say, I'll listen. Show me your secrets, your troubles, your joys, your profound thoughts and silliest imaginings. Tell me a piece of juicy gossip. Or your theories on how to make the world a better place. Share a new recipe or an old memory… a brilliant idea or a stupid one... anything... I'll be sad if you're sad, happy if you're happy. I'll giggle with you or cry with you. Or laugh with you until my face hurts. Burden me. Enlighten me. I hope we continue our conversation for the rest of our lives." (unknown author).
The meeting ended in harmony at 30 minutes past 4. The next meeting will be on Sunday 1st April 2007. The place and time will be forwarded via SMS to members.

13 juillet 2006
In Canada form July 11 to August 25.
My journey to Canada has been long but a wonderful one. It's good to be back home after spending 4 days in St.Petersburg and 5 in Moscow with Rimma the Warrior, my daughter Marie-Eve (see picture) and my sister Madeleine. I now fully enjoy beeing in Canada where living is totally different. "Another planet" as I usually say to my Russian students. A lot quieter life particularly compared to Moscow. In Quebec city, Niet 'honking' from cars in a rush... and priority's given to pedestrians. Sales agents and clerks are always smiling on customers inquiries... Quebec is a great place but... mind you, I look forward to returning to Russia. Hard to explain but it's a choice I made on October 2005 and I'm still very comforable with it.
Have a look at the photo album.
Dosvidania!
Martin