24 mai 2007
A Spectaclar Private Museum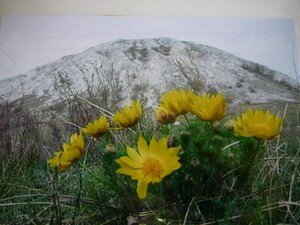 Many people in Sterlitamak don't even know how the Sheehany Mountains emerged and how they had been part of an ancient sea that was covering the whole Republic of Bashkortostan 250 millions years ago. On Sunday May 13 pm, 12 members of the Club went to the private Museum of Mr. Ivan Albertovitch Skweene, a retired geologist. On arrival, he lectured us on the pre-historic period where a large part of Russia was covered with an ocean. The museum is situated in a building belonging to the Soda Factory at the outskirt of the City. We had the opportunity to look and manipulate hundreds of minerals and stones that explain the history and development of life on this part of our planet.
Four generations of women from one family living in Moscow have been studying the Sheehan Mountains for a long period of time.
The first sea appeared in the Urals range of mountains more than one milliard years ago. Nowadays these large areas are a very important stratigraphic section represented by the open-cast mine of the Soda Industrial complex. There are also vegetation remains of different forms from leaves and fragments of trees.
Scientists from all over the world come to Sterlitamak to organize geological and paleontological venues. In the place called Shakh-Tau, there have been 4 international congresses. Scientists from Canada, Italy, Argentina, Africa, Germany, France, England and other countries come here regularly to have the unique opportunity to see and study the reefs of the ocean on the surface.
Rimma Abdrakhimova, Russian English Teacher
Speak English Language School, Sterlitamak.
COMMENTS:
Post a comment